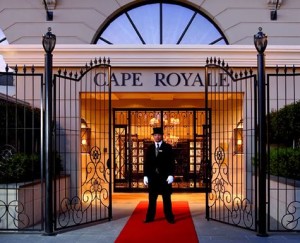 Cape Royale Luxury Hotel & Spa has been awarded the The Seal of Excellence from the 2014 Star Global Luxury Awards. Cape Royale joined the select few with this distinction recently during a ceremony which took place at The Chateau Spa and & Organic Wellness Resort in Malaysia.
The Seven Star Global Luxury Awards recognizes and sets apart the best in Hospitality and Lifestyle sector. The awards also serve as a guarantee to consumers that members are the absolute best when it comes to luxury accommodations and service.
Cape Royale Luxury Hotel and Spa is located in the heart of Cape Town and offers high-end suite and villa accommodations, the popular Bistro 1800, VIP Skybar, Equinox Spa & Salon and personal butler service.
Cape Royale Luxury Hotel and Spa, www.caperoyale.co.za