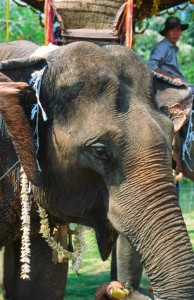 A summer sojourn in the one-time residence of Lao royalty and a close encounter with the country's gentle elephants are the cornerstones of the latest holiday deal out of Luang Prabang.
Villa Maly Boutique Hotel, a 33-room enclave anchored on the former home of Prince Khamtan Ounkham and Princess Khampieng, is opening its doors to travellers and animal lovers with 'Elephant Encounter', a two-night stay package featuring a visit to a sustainable elephant sanctuary just outside Luang Prabang.
Available through October 31, 2014, the offer features:
– a half-day visit to Elephant Village
– two nights in a Superior Room
– breakfasts in the hotel's garden restaurant, Le Vetiver
– one-hour massage per person at Maly Spa
– sunset and dinner cruise for two aboard the Nava Mekon
– round-trip airport transfers
A half-day tour begins with a pick-up from Villa Maly and a briefing from one of the sanctuary's managers, before visitors are introduced to their elephant friend for the day. A 3km ride on the howdah elephant seat, or on the elephant's neck is the highlight of the tour, which concludes with a traditional longboat ride to Tad Sae Waterfall for a buffet lunch, and transfer back to the hotel.
Elephant Village gives Laos' elephants a safe home away from the abusive logging industry, while developing a sustainable tourism product that employs local villagers who would otherwise participate in the destructive slash-and-burn trade.
Villa Maly's 'Elephant Encounter' package is priced at $280 for single occupancy and $490 for double occupancy.
Villa Maly, info@villa-maly.com; www.villa-maly.com