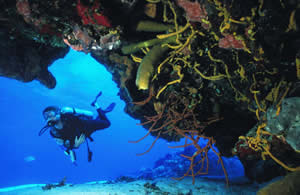 Maduro Dive Fanta-Seas, a leader in dive travel, is offering dive packages to nearly 40 countries worldwide. Currently there are over 225 resorts and adventure operators along with 50 liveaboard dive vessels in their "Select Dive Destinations" program.
Maduro is currently offering a second diver 35 percent discount on its Palau package.
The Rainbow's End, as Palau is known, has an explosion of color underwater with unspoiled reefs, caves, walls and wrecks for your visual delight and adventurous nature. The aquatic life is abundant, thriving and interesting.
There are lakes filled with stingless jellyfish and over 580 rock islands to explore. Visitors can fulfill their inner adventurer, historian or ecologist on the diverse island of Palau.
The resort, West Plaza by The Sea, has 36 rooms overlooking the ocean lagoon and nearby islands. Rooms range from standard class to deluxe rooms with kitchenettes. West Plaza by The Sea also features the Red Rooster Cafe. The cafe offers a wide selection of Japanese Cuisine, open for breakfast, lunch and dinner. The nightly happy hour features Palau's only locally brewed beer on tap, Red Rooster Draft.
The friendly, knowledgeable and professional staff at Sam's Tours PADI 5-Star Center lead daily trips for divers of all skill levels to Palau's world class dive sites featuring 1300 species of fish and 700 species of coral and multiple WWII ship wrecks and airplanes. Their safe, fast, comfortable dive boats are equipped with DAN emergency oxygen, VHF radios, cellular communications and professional local captains. For added safety they provide guests with complimentary Nitrox up to 36% (with proof of certification). Safety, service and satisfaction are the first priority at Sam's Tours.
They offer a wonderful selection of exciting tours both on and off the water that include rock island tours, snorkel tours, Jellyfish Lake tours, Palau's top rated kayak trips, big island sight-seeing tours, waterfall tours, cultural tours and "around the town" shopping shuttles.
Package includes:
7 Nights Standard Room accommodations
Room tax and hotel service charges
5 Days of 2 tank boat dives with Sam's Tours
1st Diver Pays $1,117 / 2nd Diver Pays $863
Travel Periods through September 30, 2014.
Maduro Dive Fanta-Seas, www.madurodive.com