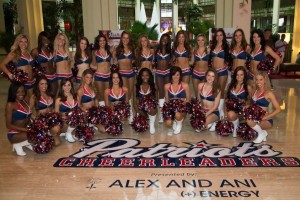 The Paradisus Cancun welcomed the New England Patriots Cheerleaders for their team calendar photo shoot. The cheerleaders' Paradisus Cancun getaway kicked off with a Meet & Greet, where guests had the chance to mix and mingle with the women.
Throughout their visit, the cheerleaders hosted a beach volleyball game, golf tournament and a beach party; partook in a Newlywed Game and Guest/Cheerleader Talent Show; and participated in cooking classes with both adults and children.
The New England Patriots Cheerleaders also gave back to those less fortunate by volunteering at local Cancun charities, including the Happiness House Cancun and CRIT Cancun.
"We are excited to welcome the New England Patriots Cheerleaders to Paradisus Cancun," noted Conrad Bergwerf, Managing Director of Paradisus Cancun. "We feel privileged that they've chosen to shoot next year's calendar at our gorgeous property."
Paradisus Cancun, www.paradisuscancun.com