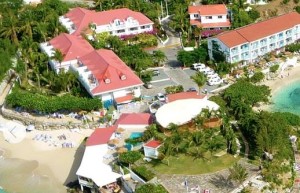 International appeal – that's a given at the Grand Case Beach Club, which attracts guests not only from the United States but from many foreign countries as well.
In the first half of 2014, the Grand Case Beach Club welcomed guests from 50 states as well as many from such European countries as Austria, Britain, France, Germany, Italy, Netherlands, Norway, Russia and Sweden. Add in visitors from Africa, South America, and Asia, along with Canada, which accounted for about five percent of the visitor total, and it's clear that the Grand Case Beach Club lives up to its reputation as an international attraction.
The majority of course came from 50 states in the U.S., led by New York, New Jersey, Massachusetts, Connecticut, and California.
The Grand Case Beach Club offers a variety of amenities for is guests. These include oversize rooms, all equipped with a full kitchen and flat screen satellite TV; swimming pool; tennis court; watersports center; island boutique, fitness room; and the Boardwalk, which wraps around a hill overlooking the ocean and connects to the Sunset Café, open for breakfast, lunch, dinner and Happy Hour seven days a week.
Grand Case Beach Club, info@gcbc.com, www.grandcasebeachclub.com