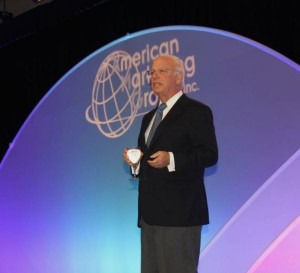 American Marketing Group, Inc. recently completed its Travel Market conference, and reported a record number of attendees and preferred suppliers from around the world at the sold out trade show. The conference took place at the Boca Raton Resort & Club in June and followed at the heels of The Affluent Traveler Symposium.
"Our number one priority has, and always will be to look out for the best interests of our travel professionals," said Rick Mazza, Chief Executive Officer. "That's why we carefully put together a program with the most relevant topics and retain the industry's best speakers. We want our travel professionals to leave our conference filled with new knowledge to help make them more profitable. When we do that, we know we've done our job well."
Travel Market included a leadership panel featuring Margaret Mulholland, President of GOGO Vacations, Scott Nisbet, President and CEO of Globus family of brands, Dondra Ritzenthaler, Senior Vice President of Sales for Celebrity Cruises and Milton Hugh, Senior Vice President of Sales for Viking Cruises. The interactive discussion explored how consumer trends are affecting supplier products and services, and covered strategies different segments use in marketing to the agency community. It concluded with a question and answer session, with inquiries being sent in live via text message.
Travel Market's interactive workshops and panel discussions covered timely topics, with sessions that catered to frontline agents as well as owners and managers.
"The American Marketing Group team put on an amazing event," noted Laurie Keith of Romantic Planet. "The seminars were inspiring and informative, the trade show was great to connect with all of the suppliers, the evening functions were so entertaining and fun, the venue was mind-blowing and the networking opportunities and breakout sessions were extremely beneficial. Travel Market helped me find more ways to grow and better my business."
Travel Market is complemented by educational opportunities throughout the year, including boot camps, lunch 'n learns, owner's retreats, webinars and more. Its next conference will take place in 2016 in the Western U.S., with exact dates and location to be determined.
Travelsavers, www.travelsavers.com