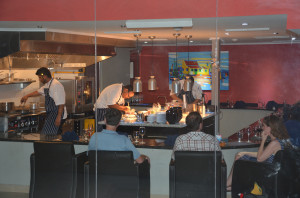 Blue Residences, a luxury condominium resort on Aruba's Eagle Beach, is now home to a new upscale restaurant – The Kitchen Table by White Cuisine.
Under the direction of Chef Urvin Croes, The Kitchen Table will provide both travelers and residents a unique gastronomic experience, as dinner will be served nightly in the actual kitchen so that diners can watch as the culinary team preps a seven-course meal made with locally sourced ingredients and home grown vegetables and herbs. Just 14 reservations and four walk-ins will be accepted each night.
Chef Urvin Croes earned the top spot in the island's first "Iron Chef Aruba" competition and has been recognized for his culinary prowess by Taste of the Caribbean and the Aruba Gastronomic Association Culinary Student Competition. Croes has received culinary training in Italy, The Netherlands and Aruba and has previously worked at various hotels in Aruba before opening his own restaurant.
Blue Residences opened its first of three residential towers last March. The 1, 2 and 3-bedroom fully equipped condos offer unobstructed views of the ocean, elevated ceilings in the bedrooms, living rooms and dining rooms, private Jacuzzi terraces, fully loaded kitchens and Wi-Fi. On-site amenities include beach access across the street, infinity pool, fitness room and a spa.
Blue Residences, www.BlueAruba.com