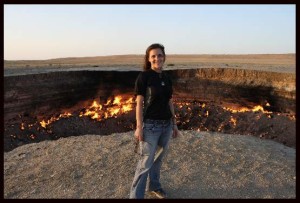 Kensington Tours Explorer-in-Residence George Kourounis' groundbreaking expedition to Turkmenistan's "Doorway to Hell" is to air on the National Geographic Channel at 10pm on July 16. Kourounis recently returned from this country long hidden behind the Iron Curtain which remains one of the most closed off and least visited in the world. His expedition sought to study the flaming crater of Darvaza which has been ablaze for over four decades and had never been scientifically documented.
"We were excited by the opportunity to support George in his quest to explore such an extreme environment," says Kensington Tours President, Phil Sproul.
For intrepid travelers looking to walk in George's footsteps, Kensington Tours is launching a "Turkmenistan Darvaza & Ashgabat Adventure" itinerary to unveil Turkmenistan's secrets, culture, capital city and Darvaza Crater. This exotic country in Central Asia is one of the least visited places in the world and is now made accessible by Kensington Tours' award-winning bespoke itineraries paired with private, experienced, local guides.
Long hidden behind the Iron Curtain, this exotic country in Central Asia is one of the least visited places in the world – so don't be surprised if you don't see a single other tourist during your visit. Located in a region that has been considered the crossroads of civilizations for centuries, its ancient cities where queens of the ancient Islamic world and principal stops upon the Silk Road. Modern-day Turkmenistan is a little bizarre but undeniably beautiful, never-ending deserts, nomadic villages, craters of fire, cotton fields, yurts, mosques, silk carpets and renowned horses.
Kensington Tours, www.kensingtontours.com