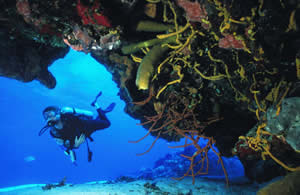 Maduro Dive Fanta-Seas, a leader in dive travel, is offering dive packages to nearly 40 countries worldwide. Currently there are over 225 resorts and adventure operators along with 50 liveaboard dive vessels in their "Select Dive Destinations" program.
Maduro has launched a special promotion on their Curacao package which includes a seventh night free stay, GHL 20% off when traveling through December 15, 2014.
Have you ever played hide and seek in a sponge forest? Whether you are an advanced diver or just getting your fins wet, Curacao is sure to please. Blue runners sprint along the reef, chasing down their pray as an octopus scuttles into his next hidey hole. Grouper patiently wait their turn at the cleaning station and eels seek out their dinner in the coral.
On land, enjoy world-class cuisine, play golf, gamble, or tour some of the 17th century architecture sites. The adventures are limited only by the amount of time travelers have to spend exploring the wonder that is Curacao.
Accommodations will be at the Kura Hulanda Lodge & Beach Club. When you do make your way outside, the free form pool is a great place to take in the view- it's situated on top of the cliff. Down the meandering stairs is the beach and the onsite dive facility operated by the highly acclaimed, Go West Diving. There you can rent or purchase dive and snorkel equipment, as well as gear up for various water sports. The dive sites on the West end of Curacao are pristine and the shore diving and snorkeling in front of Kura Hulanda will satisfy the most avid divers and snorkels.
7 Nights Lodge Garden View Room accommodations
Welcome Cocktail
Breakfast Daily
Free Wi-Fi
Free Use of Tennis Courts and Fitness Center
Complimentary Scheduled Shuttle Service to/from the Lodge and Hotel Kura Hulanda and Spa in Downtown Willemstad
6 Days of 2 Tank Boat Dives and Unlimited Shore Diving with Go West Diving (Does Not Include 22.08% Taxes and Service Charges)
Maduro Dive, www.madurodive.com
Divers Price:
$953
Vacationer Price (No Diving):
$480
Maduro Dive Fanta-Seas, www.maduro.com