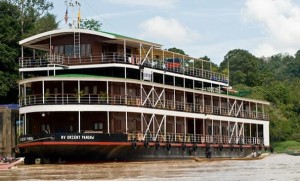 With a growing fleet of twelve colonial style boutique river ships operating expeditions on three South-East Asian rivers: Burma, on the Irrawaddy and Chindwin Rivers and through Cambodia and Vietnam on the Mekong River, Pandaw intends to build on its long-standing success in attracting discerning travelers from North America.
The company has appointed Global Voyages Group (GVG), specialists in supporting niche cruise and travel companies, to support Pandaw's multi-year strategy of expanding its relationships with Travel Agents and reaching more Travelers who are seeking extraordinary destination and river cruise experiences.
"The secret of our success is that on our ships, whilst luxury and comfort are discreetly present, it is the colonial character and friendly atmosphere that predominate," according to Paul Strachan, Founder. "All our Pandaw ships have ultra-shallow drafts and can travel to remote areas, which would be unreachable by other vessels, let alone overland. We at Pandaw have had to keep coming up with new more adventurous, more cutting edge, routings and experiences. As other ships get bigger our ships are getting smaller." David Giersdorf, President and CEO of Global Voyages Group stated that Pandaw River Expeditions provides the right mix of authentic, deep destination immersion along with luxurious comfort. He noted that partnering with the company will help further develop the North America market area.
Global Voyages Group, www.globalvoyagesgroup.com;  Pandaw River Expeditions, www.pandaw.com