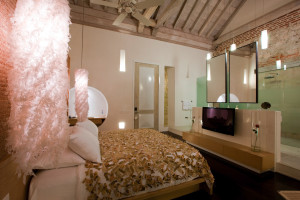 After an extensive two year restoration and renovation, a 250 year old colonial mansion comes to life in the heart of Cartagena's old city in fashion designer Silvia Tcherassi's first hotel.
With seven rooms and suites, The Tcherassi Hotel + Spa reignites the magical setting of a bygone era while delivering all of the modern amenities and comforts discerning travelers have come to expect today. The oversized, guest accommodations feature high ceilings, wood floors, private balconies and large bathrooms. The hotel boasts a 40-seat chic Italian restaurant, a lounge overlooking a vertical garden with over 3000 local plants, four pools and a roof deck with 360 degree views of both the historic city and the sea.
Wellness reigns supreme at The Tcherassi Hotel + Spa which has carved out a portion of the historic mansion's space to focus on relaxation and rejuvenation. The Tcherassi Spa offers more than 30 treatments rooted in a holistic approach to sooth both mind and body. Although the Spa uses Spain's Germaine de Capuccini amenities, many of the spa's treatments and therapies call upon indigenous Colombian and South American practices and ingredients.
The hotel is a short distance away from Plaza Fernandez de Madrid and other attractions such as the San Felipe de Barajas Fortress, an unassuming 20 foot wood front door framed by original stone that maintains the privacy of the gilded luxury that waits within.
The Tcherassi Hotel + Spa, www.tcherassihotels.com