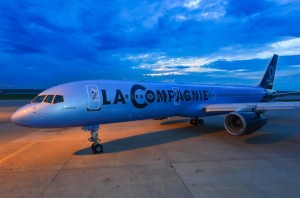 La Compagnie will accept bookings for flights between New York City and Paris effective today. The past month has seen a flurry of activity for La Compagnie, with CEO and Founder Franz Yvelin and Co-Founder and CEO Deputy Peter Luethi unveiling the brand before a packed press conference in Midtown Manhattan on June 17. Since then, the airline has secured all necessary approvals from French and U.S. authorities to begin operations.
Though its point-to-point route between Paris and New York will remain steady, La Compagnie's trans-Atlantic service will grow over the remainder of 2014 with flights offered two times weekly through July, up to four times weekly during August, and six times weekly in September. Daily flights are scheduled to begin in November and include:
La Compagnie will begin operations with a single Boeing 757-200 aircraft. Passengers will enjoy the use of individual Samsung Galaxy tablets uploaded with movies, music, information and news. Baggage travels for free on La Compagnie, accommodating two suitcases per passenger at 70 pounds each. La Compagnie also accommodates golf bags, skis and surfboards.
In-flight service will be executed by La Compagnie's international crew based and licensed in France. A chic night snacking service will be offered on flights to Paris, with a hearty breakfast available prior to arrival. Passengers en route to Newark will be served a full lunch, with three hot meal options to choose from.
La Compagnie is offering a special inaugural airfare: book for travel during July and August 2014 and enjoy a reduced return fare starting at $1,378 per person, or $2,014 for two traveling together.
Travel agents can make bookings through the La Compagnie website. Reservations will soon be available through Sabre, Travel Port and Amadeus Systems as well.
La Compagnie, www.LaCompagnie.com