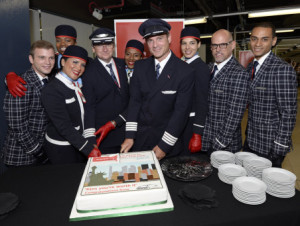 Earlier this month Norwegian celebrated its first ever flights between London Gatwick and the U.S. The first flight between London Gatwick and Los Angeles took off, while Norwegian's first flight between London and New York took off July 3. On July 4, the airline celebrated its inaugural flight to Fort Lauderdale.
Following its long-haul success with non-stop service between Scandinavia and the U.S and Scandinavia and Asia, Norwegian's long-haul adventure is now taking off in the UK. The new routes have been very well received both by Brits and Americans; almost all of the 291 seats on Norwegian's 787 Dreamliner have been booked on all the inaugural flights between London Gatwick and the three U.S. cities Los Angeles, New York and Fort Lauderdale.
"We are very happy to celebrate the first ever flights between the UK and the US," said Norwegian's CEO Bjørn Kjos.
"The traveling public deserves affordable fares and flexible tickets across the Atlantic. The transatlantic market has for too long been dominated by a few large airlines offering unreasonably high fares and restricted ticket flexibility."
In 2013, Norwegian was voted Europe's best low-cost carrier of the year by the SkyTrax World Airline Awards.
Norwegian, www.norwegian.com