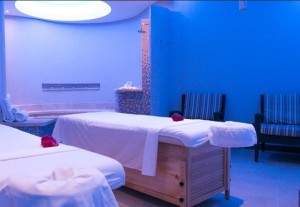 Barceló Hotels & Resorts has completed construction of Deep Blue Spa, a new addition to its Los Cabos-based Barceló Grand Faro Los Cabos resort. As part of the resort's $1.1 million renovation, additional features and additions include the VIP room for the Club Premium, enhanced restaurant improvements, upgrades to three of the resort's bars, an outdoor theater and guest rooms upgrades.
With Deep Blue Spa, Barcelo has created a wellness space of relaxation and skin care treatments. The spa has a relaxation area, 5 individual treatment rooms and a treatment suite for couples with Jacuzzi and private shower. Each treatment room is named in keeping with the relaxing tones of blue: sky, klein, turquoise, indigo, sapphire, and cobalt.
The beachfront Barceló Grand Faro Los Cabos is situated next to the Sea of Cortez, a brief 1.5 miles from the heart of the city. Los Cabos is a colonial town known for its cultural environment with several renowned international art galleries, wide gastronomic offerings and integrated design for many restaurants.
Barceló Grand Faro Los Cabos, www.barcelo.com