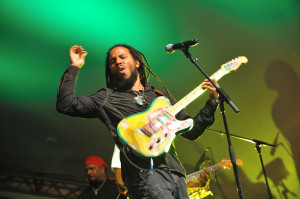 Reggae fans across the United States can experience the Marley magic this summer as the Jamaica Tourist Board (JTB) has joined forces with Grammy Award winning reggae artist Ziggy Marley for his 2014 Fly Rasta North American Tour. The Fly Rasta album, released earlier this year, is the marriage of distinctive Jamaican reggae with elements of rock, funk, soul and pop. The tour started on July 19 and will run through August 24.
The JTB has also partnered with SiriusXM for a 12-week promotion to celebrate the Jamaica Fly Rasta tour by offering listeners a chance to win a 5-day/4-night stay for two at The Oasis at Sunset Resort in Montego Bay, Jamaica.
"Jamaica is a place known throughout the world as the birthplace of reggae, and Ziggy Marley is a major contributor to keeping this reputation alive. Given the success we have enjoyed in the past as a result of our relationship with Ziggy, we were eager partnering again this summer," noted Donnie Dawson, Deputy Director of Tourism – Sales at the Jamaica Tourist Board. "Ziggy continues to blaze a trail and is a great ambassador not just for reggae music but for Jamaica."
Travel agents have not been left out of the action as the JTB is offering them an opportunity to see Ziggy Marley live in concert in their local city. To qualify for this offer, Jamaica travel specialists must book at least three trips to Jamaica between now and August 24.
Jamaica Tourist Board, www.visitjamaica.com