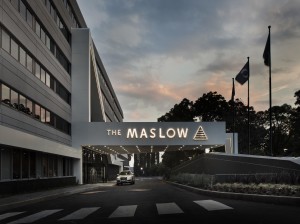 The Maslow Hotel is Sun International's new, modern hotel, providing an oasis setting within Johannesburg's premium shopping area of Sandton. Following a $23 million refurbishment, The Maslow is now the perfect spot for a holiday stop over to enjoy a luxury shopping trip or experience both the modern and the traditional South Africa, including guided visits to the Apartheid Museum and Soweto.
To make the most of a trip, the Maslow offers The Wayferer Lounge – a transit lounge to relax as vacation – as well as a complimentary shuttle service to visit the shopping malls and an in-house travel agency to organize ongoing traveling experiences at the last minute.
The Maslow Hotel is designed by Graeme Holtshausen of Dakota Architecture & Interior Architecture and Drop Design. The design is inspired by the psychologist Abraham Maslow and his well-known Hierarchy of Needs, the hotel's philosophy is compellingly simplistic and in tune with its oasis setting. The design maximises the vista of the outdoors to full advantage. All of the public areas are joined seamlessly, and the restaurant and the bar are open onto the gardens thanks to a glass wall.
The Maslow Hotel now features an Africology Spa for travelers to relax and experience the bespoke Africology Hydrotherapy zone. Experiences include the ice walkway, sauna, jacuzzi and Razul steam room, offering a unique body exfoliation treatment using mud and botanical scented steam in addition to cold water therapy or specific Africology treatments.
The Spa also includes a manicure and pedicure area and a Sensory Bar, where patrons can sample Africology's tantalising range of potions and even design their own bespoke natural treatments.
The Maslow Hotel, www.suninternational.com