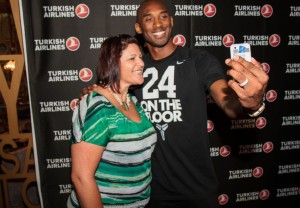 Turkish Airlines brought its "Kobe vs. Messi: The Selfie Shootout" advertising campaign to The Global Business Travel Association (GBTA) Convention 2014 this week in Los Angeles. The international carrier hosted a sweepstakes for this year's conference attendees to win an opportunity to meet — and take their very own selfie — with Kobe Bryant.
Fifteen winners were randomly selected leading up to the GBTA conference, with the sweepstakes culminating on July 28 at the convention. The selfies were taken onsite with the NBA superstar in Turkish Airlines' custom selfie zone booth.
"I'm proud to be an ambassador for Turkish Airlines and to have helped bring the magic of our highly successful commercial to the fans at this year's show," said Kobe Bryant.
Earlier this year, Turkish Airlines was awarded the Most Viral Celebrity Spot in Advertising Age's 2014 Viral Video Awards for the campaign. The video also took the number one spot on YouTube's Top 10 Ads of the Year List in 2013.
"The whole world has come to recognize and love what we at Turkish Airlines have accomplished with Kobe Bryant and Lionel Messi, our star global ambassadors," said Fatma Yuceler, General Manager for Turkish Airlines' Western Region USA.
"We were thrilled at the prospect of showcasing our viral, award-winning ad campaign at this year's GBTA Convention. Through this ad, people's awareness of the many benefits of Turkish Airlines – from flying to more countries than any other airline to our award-winning cuisine and unparalleled comfort and service – has grown substantially."
Turkish Airlines, www.turkishairlines.com