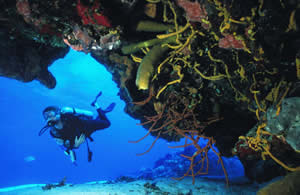 Maduro Dive Fanta-Seas, a leader in dive travel, is offering dive packages to nearly 40 countries worldwide. Currently there are over 225 resorts and adventure operators along with 50 liveaboard dive vessels in their "Select Dive Destinations" program.
Maduro is currently offering a discount on their 7-night Red Sea Egypt package starting from $1699.
The Red Sea is located between Asia and Africa. At its most northerly point forms the Sinai Peninsula and stretches over 1,000 miles South to join the Indian Ocean, between Ethiopia and Yemen. In the North and West are desert plains, while in the South a mountainous region (2,642 meters high), which is part of the mountain range stretching from deep in Saudi Arabia, across the Sinai and then into Nubia of the African continent. The Red Sea holds beneath its crystal blue surface an oasis of living creatures, reefs, and coral formation. Its use as a highway between East and West has attracted man since the beginning of time.
What makes Red Sea Aggressor LiveAboard different is the 5 star yacht, 5 dives a day (Southern & St. John itinerary and 4 dives a day Brothers itinerary), Free beer and wine and Aggressor Fleet Service.
Port Ghalib, Egypt's premier up-scale resort community, is home to the beautiful 120 ft., 20 passenger Red Sea Aggressor yacht and host hotel, the beautiful Crown Plaza Sahara Sands. This beautiful waterfront community also includes an Intercontinental Hotel, Marina Lodge and restaurants of all kinds.
The package includes:
7 Nights Deluxe Stateroom accommodations
Airport or Hotel Transfers on Day of Charter
All meals, snacks, Non-Alcoholic Beverages, Local Beer and Wine
An average of 4 to 5 dives daily (Depending on weather and itinerary)
Maduro Dive Fanta-Seas, www.maduro.com