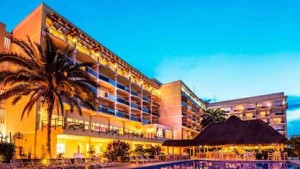 Kempinski Hotels took over the management of Hôtel Des Milles Collines in Rwanda's capital Kigali at the beginning of the month. Hôtel Des Milles Collines by Kempinski will be the European luxury hotel company's ninth hotel operating on the continent, with three more hotels in Africa scheduled to open in the next six months.
The hotel, which opened in 1973, was made famous three decades later by the film "Hotel Rwanda" as a place of refuge during the Rwandan genocide in 1994. The hotel is now officially part of the Kempinski network and is bookable online through Kempinski.com. Plans are in place for a major refurbishment to the rooms and restaurants over the next eighteen months to facilitate the full implementation of its signature services and standards.
Located atop a hill in the center of Kigali, the hotel features 112 rooms and suites, meeting and conference facilities including a large conference room for up to 300 people, an outdoor swimming pool, a recreation area and seven boutiques.
Home to a third of the world's remaining mountain gorillas Rwanda offers tourists a rare opportunity to observe them in their natural habitat on the luxuriant slopes of the Volcanoes National Park, just a two and a half hour drive from the hotel.
Kempinski Hotels currently operates 72 hotels in 30 countries and has more than 40 hotels under development worldwide.
Kempinski Hotels, www.kempinski.com