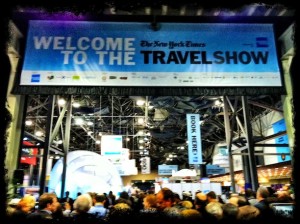 The 12th annual New York Times Travel Show will be hosted January 23-25, 2015, at the Jacob K. Javits Center. The Travel Show attracts more than 23,000 travelers and industry professionals, 7,000 trade attendees and 600 travel industry media from around the world.
The NY Times Travel Show provides the opportunity to plan a getaway during one-on-one conversations with world travel experts, get discounted travel packages including adventure, cruising, luxury and unique ways to see the world for every budget, and sample a variety of international cuisines and live performances.
The New York Times Travel Show will feature more than 500 exhibitors from Africa, Asia, Australia/South Pacific, Canada, the Caribbean, Europe, Latin America, Mexico and the United States. In addition to discounts and special offers, the show will offer educational seminars and live entertainment.
The New York Times Travel Show, www.NYTTravelShow.com