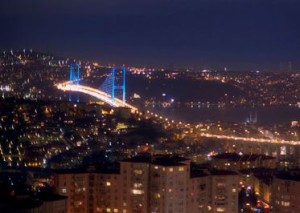 When it opens on 1 September this year, Raffles Istanbul will be the perfect embodiment of the 'new' face of Istanbul: cutting-edge, eclectic and energetic. The hotel is at the heart of the Zorlu Center, a new hub for fashion, food and the arts on the European shore in Be?ikta? – overlooking the Bosphorus, the Princess Islands and the historic peninsula. This is a next-generation bazaar, where fashion, performance and art converge.
Like those of its stylish sister, Le Royal Monceau, Raffles Paris, the sleek modern interiors at Raffles Istanbul will be embellished with an impressive collection of artwork, specially commissioned from local artists, a mix of paintings, sculpture, photography and video installations. These will all come together under the common influence of Turkish culture and heritage, giving the hotel a strong sense of place.
With interiors by HBA, the hotel's design will be a contemporary interpretation of traditional Turkish design – reflecting characteristic cultural features of Istanbul – with 132 guestrooms and 49 suites. The hotel will feature a 1,200 square-metre ballroom with a large foyer, two restaurants and two bars, including an interpretation of the iconic Long Bar at Raffles Hotel in Singapore. There will be indoor and outdoor swimming pools, a helipad allowing guests to arrive in style and a signature Raffles Spa, set to be one of the largest spas in Istanbul at approximately 3,000 square metres.
And as in Paris, Raffles Istanbul will have an Art Concierge, to steer clients through the city's exciting new art scene which, over the last few years, has shifted from heavily traditional to a reinvigorated one, energetically celebrating its new generation of artists. The Istanbul Museum of Modern Art, Turkey's first private museum to stage modern and contemporary art exhibitions, was founded in 2004 on the shores of the Bosphorus, and in 2012 the contemporary art space SALT opened. Last year a number of Istanbul art galleries attended Frieze London, as well as Art Basel in Basel and Hong Kong.
Hotel guests will benefit from direct access to the Performance Arts Centre, which will offer world-class dramas and musicals simultaneously with their openings in London and Broadway. The Raffles Butlers will bring a new level of luxury and service to Istanbul – a first for the city. And downstairs in the Long Bar, cocktails will be classic – but with a distinctly glamorous new twist – a place to see and be seen. Make that another Istanbul Sling, please.
Rates start from €600 per night for a Raffles Room.
Raffles Istanbul, www.raffles.com