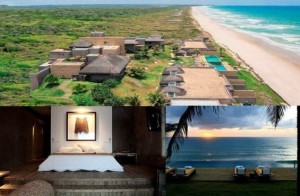 Kenoa Resort is the first eco chic resort of Brazil, located in Alagoas with just 23 accommodations. Apart from enjoying the  landscape and the architecture and design of the hotel, Kenoa also offers The Kenoa Spa, which has a range of body and facial treatments including massage and baths, with Shiseido and Germaine de Cappuccini products.
The Kaamo Restaurant, Winebar & Lounge, which rely on the advice of renowned consulted chef César Santos, is recognized in major magazines and newpapers, national and international, making the cuisine at the hotel one of the greatest differences of Kenoa.
The resort offer unique experiences, such as the Oyster Experience. A canoe ride to an oyster farm with a tasting on the lagoon in the mangrove.
The resort is blessed with a unique weather all year round. At only 9º south of Equator, this area presents always a tropical climate and very pleasant water temperature. Currently the following special promotions are being offered:
Book 3 nights and get a complimentary "wako kenoa" couple massage
Book 4 nights and get a complimentary round trip transfer from and to Maceio airport
Book 5 nights and get a complimentary 6th night
These offers are valid all year but not during national holidays.
Kenoa Resort, www.kenoaresort.com