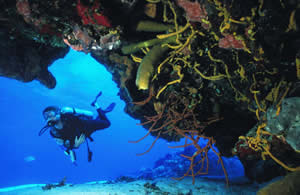 Maduro Dive Fanta-Seas, a leader in dive travel, is offering dive packages to nearly 40 countries worldwide. Currently there are over 225 resorts and adventure operators along with 50 liveaboard dive vessels in their "Select Dive Destinations" program.
Maduro Dive's current promotion is allowing travelers to experience a 7 night dive package in Belize from $722.
Visibility in this particular area of Belize is typically about 100 feet, water temperature hovers at near 80 degrees Fahrenheit, and the barrier reef calls for generally calm seas. All this plus 20-30 foot swim throughs and deeply cut spur and groove reefs add to the allure of Ambergris Caye. When there, be sure to check out Shark Ray Alley, a great place to get upclose and personal with some of the local aquatic life.
Plenty for landlubbers to do, as well. The Mayan ruins are legendary, and the rainforest provides a diverse group of creatures, including jaguars and rare birds.
Relaxation is important to SunBreeze Suites and with the help of on site facilities, it is possible for travelers to enjoy their vacation without ever leaving the comfort of the hotel. However, SunBreeze Suites is conveniently located within walking distance from local restaurants, bars and discos, gift shops and supermarkets.
Accommodations at SunBreeze Suites are fully equipped one-bedroom compact Oceanfront Suites. Complete with modern amenities, these suites offer the perfect home away from home. Suites include private oceanfront balcony, private bedrooms with king, queen, or twin bed, full equipped kitchen, dining and living room with queen size sofa bed, plus more. Free Wi-Fi is available.
Package details: 7 Nights standard room accommodations, room tax and service charges and 4 days of 2 tank local boat dives from $722 between now and November 6, 2014.
Maduro Dive Fanta-Seas, www.madurodive.com