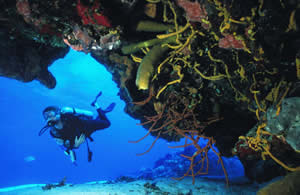 Maduro Dive Fanta-Seas, a leader in dive travel, is offering dive packages to nearly 40 countries worldwide. Currently there are over 225 resorts and adventure operators along with 50 liveaboard dive vessels in their "Select Dive Destinations" program.
Currently Maduro Dive is offering 7th night/6th dive day free, a savings of $372 on their Tawali Resort package.
The wrecks surrounding Papua New Guinea have become artificial reefs, providing homes for a thriving ecosystem. Huge gorgonians sprout off the decks, anemones wave in the current, eagle rays shuffle along the bottom searching for food as sharks silently soar past. With a variety of wrecks to choose from, each with a different story, boredom is not an issue.
Famous muck dives provide several frames of footage to take home with you. Lacy scorpionfish, ghost pipefish and the elusive nautilus are just a few of the amazing creatures that call PNG home.
On land, the country is just as diverse and interesting. PNG is known for its trekking, mountain climbing and bushwalking. Nature-lovers delight in the lush rainforest and the region is alive with dance and music, a must-see for anyone interested in other cultures.
All this sustenance will give you the energy you need to look for the famous mimic octopus, pygmy sea horse, green ghost pipefish and, of course, the great hammerheads local to the area.
Returning topside, covered walkways guide you around the resort to the main reception and dining areas. Your room is comfortably furnished with two queen sized beds, a modern bathroom and the ultimate in private balconies that overlooks the amazing view of the bay. You may find yourself wanting to never leave the balcony!
Package details: 7 nights deluxe ocean view accommodations, airport transfers, all meals, six days of 3 tank boat dives, shore diving on house reef, chamber fees. Must book by March 1, 2015
Maduro Dive Fanta-Seas, www.madurodive.com