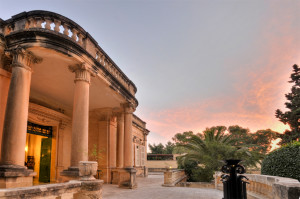 A dynamic and new holiday offering has been launched by the Corinthia Palace Hotel & Spa in Malta will give travelers the chance to see the Maltese Islands like never before.
Called 'Private Malta', the 4-day break will go beyond the many world-famous historic attractions found on Malta, such as the silent city of Mdina and the baroque capital Valletta, as well as behind the normally-closed doors of some of the most interesting private homes and Palazzos to meet the owners.
This new program is commissionable to agents at 10 percent.
Highlights of the program include private visits to the spectacular St John's Cathedral, a yacht tour of The Grand Harbour, and musical performances in Palazzos.
Malta boasts many top UNESCO World Heritage Sites and will host Europe's City of Culture in its stunning capital Valetta in 2018. The City of Valetta is currently undergoing a major renaissance in the property sector with extensive refurbishments underway on private and public buildings.
The people of Malta were awarded the prestigious George Cross by the British King George V1 in 1942 in recognition of their bravery at battles early in the last World War. These aspects will be highlighted within the program, helping the guests to really come to know the old and new of this unique island nation.
A new Parliament building is being completed, designed by word famous Italian designer Renzo Piano. Many of the Bastions, the ancient city walls in the capital and around the island, are also being upgraded and repaired after years of neglect. The whole island is being given some much-needed love and attention.
"Our aim is to give visitors a VIP experience like no other," said creator, Jim Dunn, a British resident of Malta and an advisor to the Corinthia Palace Hotel & Spa.
"The package will include private arrivals and transfers, five-star hotel accommodation, guides, and access to many of the island's true gems – most of which are rarely open to the public."
The itinerary has been crafted by beyond3sixty, who specialize in creating luxury and bespoke holidays for discerning travelers in the Maltese Islands and Sicily.
The cost of the itinerary starts from €2,150 per person (in a group) for four nights' accommodation.
beyond3sixty, www.beyond3sixty.com;  The Corinthia Palace Hotel & Spa, www.corinthia.com/palace