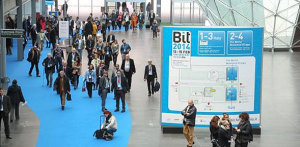 In order to constantly create new business, one needs to be able to think outside of the box. It's also necessary to be able to transform innovative ideas into concrete opportunities. This is the revolutionary philosophy behind the new Bit – International Tourism Exchange, the first in the industry organized by business segments, with the layout taking shape day after day.
In addition to the traditional Leisure area, Bit2015 will also include an area dedicated to MICE; an elite space for the Luxury segment, which will be expanded with new representatives from Lombardy and Tuscany; and Digital World, an area dedicated to innovation via technology. Specifically, the Leisure area will host a space for Italian culture, food and wine. The Destination Sport area is also brand new.
More than 2,000 companies, which will be available to the 1,500 buyers from Italy and abroad and the 3,000 journalists expected, will be able to take advantage of this new concept.
Bit2015 is also establishing itself as the top marketplace for supply and demand. The new meet&match formula, which allows for exhibitors to set up appointments directly in the stand, is seeing success. And there are various regions considering participating in both the Leisure and MICE and Luxury areas.
"The only way our country will see growth again is by focusing on our areas of excellence, from food to fashion to design" says Enrico Pazzali, CEO of Fiera Milano Spa. "But our true excellence is Italy itself, which has a unique heritage of beauty thanks to its nature, history and art, which can't be found elsewhere."
Bit2015 will increase the number of hosted buyers in its new program to 1,500 participants from more than 70 countries. The dedicated Buyer Office for Bit is already carrying out research on the various segments of the show – Leisure, MICE and Luxury – and is seeing great turnover as compared to Bit2014.
The focus of the market is especially on luxury, a segment that is being less affected by the economic situation. Double-digit growth is being seen from the emerging markets, including China, India, Russia and Brazil, and Italy is one of the top destinations.
The Bit think-tank will be dedicated to A Journey into Made-in-Italy Luxury and is provided by Emilio Becheri and Ilaria Nuccio of Mercury-Turistica. There will even be a talk show that will involve tour operators and networks and will be moderated by Roberto Gentile, an expert in retail in tourism and the author of two books on the subject. He is also a partner in and CEO of Frigerio Viaggi.
In its 35th edition at fieramilano in Rho, BIT2015 will be held February 12 – February 14, 2015.
Bit2015: www.bit.fieramilano.it