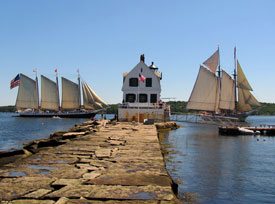 Each summer thousands of people step aboard a Maine schooner not knowing where the wind will take them for the next two hours or several days. Close-up views of lighthouses and lobstermen at work, and sightings of seals, osprey and bald eagles are standard wherever the windjammer goes.
A day sail or multi-day vacation on a passenger schooner is a unique way to see and learn about the Maine coast. Set off from one of these harbors.
South Coast – Portland Schooner Company offers two-hour day sails through the islands of Casco Bay and overnight trips on the schooners Bagheera and Wendameen. In Kennebunkport, the Schooner Eleanor sails between Cape Arundel and Cape Porpoise with views of sand beaches and grand oceanfront homes.
Mid-Coast – This region of Maine is home to North America's largest fleet of traditional sailing schooners. Fourteen passenger vessels – many recognized as National Historic Landmarks – based in Camden, Rockland and Rockport offer all-inclusive sailing vacations, with an island lobster bake and shore excursions, lasting up to six days. Two to three-hour day sails are also offered from the three ports, and from Boothbay Harbor.
Down East – Bar Harbor is a destination for day sails on Frenchman Bay aboard the modern, steel hulled schooner Margaret Todd. And in Eastport, the former Chesapeake Bay oyster schooner Ada C. Lore offers the only sail powered whale watching cruise in Maine on Passamaquoddy Bay.
Photogenic Fields of Wildflowers
See landscapes of iconic lupines and other wildflowers in these destinations:
Several fields in the Aroostook County town of Stockholm burst with white, pink and purple wild lupines and daisies. Follow roads off Route 161.
The island of Deer Isle has a festival to celebrate its lupine landscapes and other wildflowers that can be viewed along and off of Route 15.
The 21-mile Grafton Notch Scenic Byway welcomes travelers with fields of wild daisies, lupines and fireweed. The byway traverses Route 26 from Newry to Upton.
What's New & Unique
This spring is expected to be a better than average time to view the colorful lights of Aurora Borealis in Maine. The solar cycle of storm activity on the sun is at its peak, according to the National Oceanic and Atmospheric Administration Space Weather Prediction Center. When gasses contained in solar flares enter Earth's atmosphere they create the green, purple and pink bands of light also called the northern lights. Northern and southern locations in Aroostook County at the top of Maine are dependable for Aurora views, but the lights also reach coastal areas, including a recent showing above Pemaquid Point Light in Bristol.
Two-Nation Marathon Set For Inaugural Run Downeast
The neighboring communities of Lubec, Maine, and Campobello Island, New Brunswick, have partnered to host the first Bay of Fundy International Marathon on June 23. Runners will race from Quoddy Head State Park in Lubec to downtown Lubec, across the bridge to Campobello Island and East Quoddy Head Light, then back to the Lubec waterfront. A 10K race is also scheduled, along with a community fun run, pasta and lobster dinner, and race day street fair with live music.
Visit Maine, www.visitmaine.com