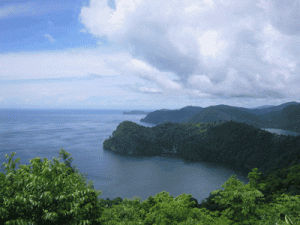 Prestigious writer Scott Elder paid a full week visit to the island of St. Eustatius for a Washington Post article he dubbed "St. Eustatius, a Caribbean Shangri-La".
While on the island Mr. Elder was extremely active fulfilling his one week itinerary. He explored the island and visited most of the main attractions such as the Quill National Park and Boven National Park, with his hosts taking him on exhilarating hikes to see panoramic views of the neighboring islands. Mr. Elder also indulged himself into some pristine diving that the island has to offer.
"I serendipitously discovered Statia six years ago during a sailing trip with my dad and brother. None of us had heard of the tiny island before we saw it on the nautical chart. When we cruised into the harbor, I was immediately smitten", said Mr. Elder.
"The shore was lined with mysterious stone ruins and palm trees, overlooked by a storybook fort complete with cannons. Oranjestad, the island's only town, looked to me like a New England fishing village transplanted to the turquoise waters of the Caribbean".
St. Eustatius Tourism, www.statiatourism.com