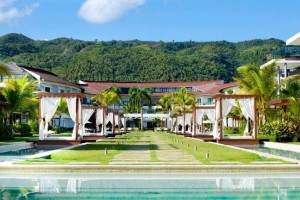 The "truly funky beach town" of Las Terrenas, on the Dominican Republic's Samana Peninsula, is drawing unprecedented numbers of North American travelers. Direct JetBlue flights from New York's JFK airport and a new highway from Santo Domingo have made the region easily accessible and boutique hotels mirror the region's cool, relaxed elegance.
Perched on six-miles of private beach just outside of town, Sublime Samana Hotel & Residences, one of the area's leading boutique properties, is offering three new packages.
From wellness programs ideal for girlfriends' getaways to family adventures and romantic retreats, Sublime Samana's range of new packages allow you to unwind on your own terms. All packages are available for travel May 1 through December 20, 2014.
Wellness a la Samana
4-nights in a one-bedroom suite for $1,490 based on double occupancy
· Open Air Yoga Class – Enjoy the peace and serenity of an early morning yoga class one morning during your stay. Meet your instructor in the open air yoga pavilion and savor the ocean breeze during an hour of restorative bliss.
· Healthy Meal Plan – Delight your taste buds with fresh Samana fish and local produce, as you enjoy a selection of delectable, healthy local specialties. The package includes three meals per day.
· Standup Paddle Boarding Lesson – Venture out on the inviting waters of Samana bay with your local paddle boarding instructor, as you get a full body workout during a two hour lesson in 2014's most popular emerging water sport.
· Fish Market Experience and Cooking Course – Spend an afternoon with Sublime Samana's celebrated Chef, Cristian Baéz, and venture into town for a visit to Las Terrenas'  beachside fish market. Take your catch of the day back to the hotel for an outdoor healthy cooking course with the Chef and enjoy the fruits of your labor during a private meal by the beach.
· Energizing Blue Sea Ritual – Take in the sounds of the ocean at Sublime's natural beach spa as two massage therapists work their magic. Utilizing mint as the principal healing element, this synchronized massage releases the flow of energy and tension and restores balance to the body and senses.
Sublime Family Adventure
4-Nights in a two-bedroom suite for $1,450 based on four people
· Horseback Riding – Enjoy an afternoon horseback riding along the beach.
· ATV Excursion – Hop on your ATVs for a day of family fun and venture on a guided off-road expedition through the lush jungle and mountains, before riding along Samana's beaches.
· Tennis – Take advantage of daily opportunities to rally as a family on Sublime Samana's tennis court. Rackets and balls are available to all hotel guests.
· Hike to el Limon Waterfall – Take in the sights and sounds of Samana's lush wilderness during a hike to the El Limón waterfalls. Enjoy a refreshing dip in the fresh water, as you witness one of the area's most beautiful natural wonders.
Essence of Love
3-nights in a one-bedroom suite for $775 based on double occupancy
· Fruit Basket and Sparking Wine – Unwind from the moment you arrive and relish your lovers company while enjoying a fresh fruit basket and bottle of sparkling wine on your suite's furnished balcony.
· Romantic Dinner on the Beach – Take in the sunset and sound of the calm rolling waves during a romantic, candlelit dinner on the hotel's private beach.
· Couples Massage – Relish a private spa experience with your significant other as you enjoy a couples massage on the beach at the resort's all natural beach spa.
· Private In-Room Breakfast – Enjoy your breakfast while taking in the morning breeze on your terrace and begin your vacation with the ultimate in gourmet pampering.
Sublime Samana Hotel & Residences, www.sublimesamana.com