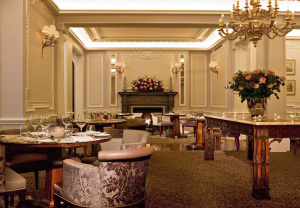 Julien's Auctions of Beverly Hills and The Lyttelton at The Stafford London have come together to offer locals and visitors the Chef's Spices Afternoon Tea with a rare glimpse at the designs worn by HRH Diana, Princess of Wales.
From November 17-23, the hotel will be home to two of the late princess' iconic dresses designed by Zandra Rhodes and Catherine Walker, respectively. For one week the gowns will be prominently displayed in the lobby of the hotel before being transported to Los Angeles for auction in December. Brought together for the launch of the new menu, the event is meant to represent the beauty, refinement and elegance of the princess, captured through her one-of-a-kind wardrobe and a luxurious afternoon tea.
With a history that dates back to Lord and Lady Lyttelton in the 19th century, ancestors of Princess Diana, the Lyttelton restaurant is the perfect setting for the exhibit. The new menu will consist of tea and treats including star anise dark chocolate and orange roulade, cardamom-mango éclairs and ginger panna cotta with a berries compote. The Canton Tea Co. has also created blends especially for The Stafford London. The new Chef's Spices Afternoon Tea will be served daily from 3-6 p.m. and guests may book online at The Stafford London.
The Stafford London, www.thestaffordlondon.com